Approach
In the world of mass timber, structure is architecture, and architecture is structure. For us, integrated design is not an item in our scope of services, but a philosophy that is fundamental to what we do. Elegant and lasting mass timber design cannot be done any other way.
We live and breathe timber. Because of what it means to the world around us and its potential in helping to deflect the industry's trajectory toward climate catastrophe. What it means to our owners and occupants, how it provides a beautiful place to work or to live, but also that they are healthier, happier and more productive as a result. And what it means to us and to our design partners, to see the realization of our work through craft and labour, all borne from the forests that we cherish.
We apply decades of experience to craft solutions that further the architectural vision while incorporating acoustic, fire and thermal performance goals. No matter the building size or type, we pursue designs that are sustainable, buildable and thoughtful in their use of material.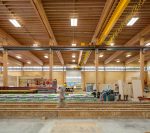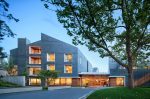 Good design is that which makes a positive contribution to society without continuing to exacerbate our climate emergency. We have prioritized sustainability and innovation since day one. In 2012, Equilibrium's founding principal Eric Karsh and architect Michael Green published "The Case for Tall Wood", which, after being featured on the likes of CNN, the Economist and National Geographic and a widely viewed TED talk, helped usher in the current era of mass timber enthusiasm in North America. The report was the catalyst for the Province of British Columbia to sponsor Prince George's Wood Innovation and Design Centre, the tallest modern all-wood building in the world at the time of its construction
We recognize that our privileged role comes with a responsibility to drive for a transition to a bright low carbon future. We dedicate a sizable portion of our time to promote green thinking on our projects and collaborate with the wider engineering community to advocate for meaningful change.
We are proud to have introduced the Passivhaus concept to North America in 2007 and to be early supporters of the Engineers Declare movement. We are part of the SEI's Sustainability Committee, working to mobilize a response to the Carbon Leadership Forum's SE2050 Challenge to eliminate embodied carbon in buildings by 2050.